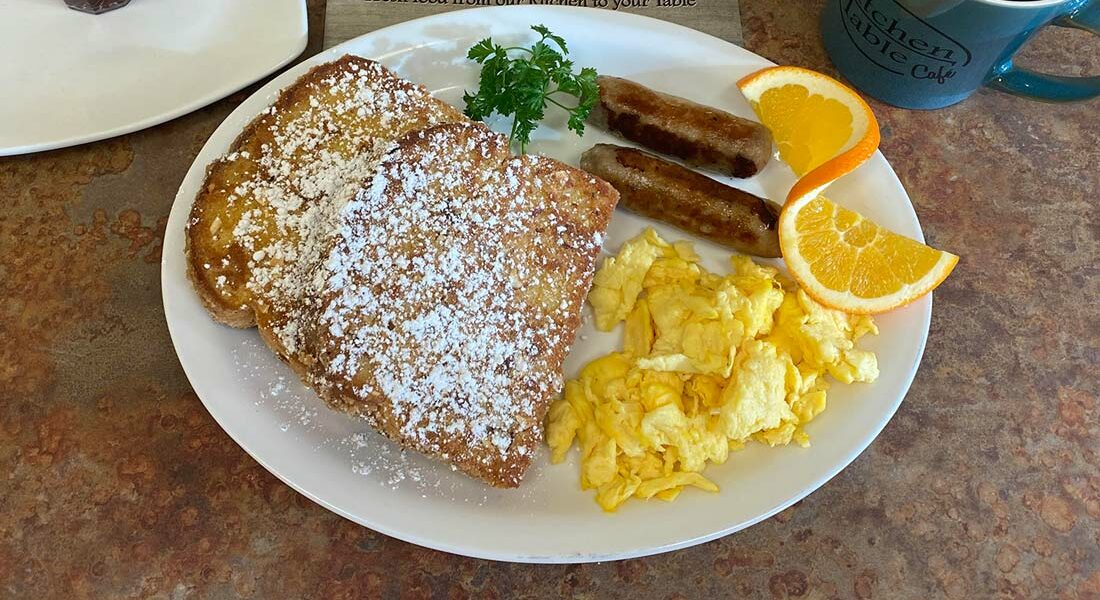 Let's do breakfast Vancouver style. Breakfast in Vancouver is simply amazing — Especially at Kitchen Table Cafe. We offer breakfast with a wide selection that's sure to please, even the most finicky. That's what we are all about. We have a winter menu that we are certain you would cherish. Breakfast Vancouver style here at the Kitchen Table Cafe serves up an awesome breakfast. We are committed to offer you your best dining experience at an affordable price.
We offer a dish we call Jalapeño Cheddar Sausage & Eggs. It has three jalapeño cheddar sausage links, two eggs, hash browns or red potatoes and your choice of biscuits, toast or pancakes. This Vancouver breakfast will warm you up on the coldest of days.
We also offer a wonderful dish called "Peanut Bubba" French Toast Combo. It has thick bread dipped in egg batter, encrusted with peanut butter cookie breading and grilled to perfection and served with two eggs and your choice of ham, bacon or sausage.
Another favorite is the Homemade Chili Bowl. It is Our secret recipe homemade chili served in a warm bread bowl topped with cheddar cheese and onions.
Breakfast Vancouver style here at the Kitchen Table Cafe is only three (locations) of many Vancouver restaurants but we feel we offer the best meals at an affordable value. We take pride in preparing all of our dishes. Our aim is to make sure you have a most excellent dining experience at the best possible value. Kitchen Table Cafe has three locations for your convenience. These are our locations:
EVERGREEN PLACE
705 NE 136TH AVE. SUITE 101
VANCOUVER, WA 98684
PHONE: 360-448-7840
SALMON CREEK
1319 NE 134TH ST SUITE 101
VANCOUVER, WA 98685
PHONE: 360-852-8756
ORCHARDS SAFEWAY PLAZA
11500 NE 76TH ST VANCOUVER, WA 98662
PHONE: 360-253-8539
All locations are ready to serve you with our excellence service and dishes. So come on in and relax and enjoy one of the very best restaurants Vancouver style . We have many testimonials from folks that made the effort to thank us and share their experience with us. Visit us at any of our locations. We are looking forward to meeting you and serving you.
16
Feb
2015